Sacred Odyssey: Rise of Ayden is an action adventure adventure. It follows a similiar to path to that of legend of Zelda or Darksiders with it's mix of rpg item progression, puzzle solving and action.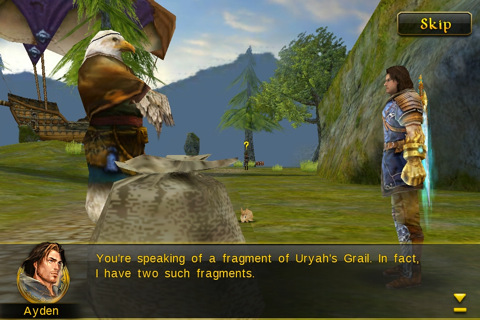 In the game you play as an farm boy whose life takes an adventurous turn when you learn of your secret and all important purpose (sound familiar?). While it has a standard fare fantasy story, it constantly jumps from a comic mockery of its peers to a deadly serious tale. This is a shame as with a bit more polish it could have been a great.
The art is fairly imaginative and character models are nice to look at. The problem arises with the games muddy environment textures, presumably because of the large areas needed to be covered, if these were filled with higher quality textures it would have brought the game to a crawling pace.
The games mix of action and rpg works very well, as has been showcased before with the highly acclaimed Zelda and Darksiders. It may have a few rough patches, but it's completely unique compared to it's mobile peers.